Columbia University
Irving Medical Center
Neurological Institute
710 West 168th Street, 3rd floor
(212) 305-1818


Research
Aging and Dementia
NIA-LOAD Family Study
In 2002, the National Institute on Aging created the Late Onset Alzheimer's Disease (NIA-LOAD) Family Study for the specific purpose of recruiting and genotyping families with two or more siblings affected by the late-onset form of Alzheimer's disease, and making this data available to qualified investigators worldwide. Led by Principal Investigators Drs. Richard Mayeux at Columbia University and Tatiana Foroud at Indiana University (and the National Cell Repository for Alzheimer's Disease), a consortium of 10 sites nationwide continue to recruit new families and conduct longitudinal assessments on families and controls. The NIA-LOAD Family Study currently represents the largest collection of families ever assembled with late onset Alzheimer's disease, and is among the most sought-after cohorts in the world for AD-related academic and industry investigations. To date, at least 75 research studies have been published utilizing the NIA-LOAD cohort.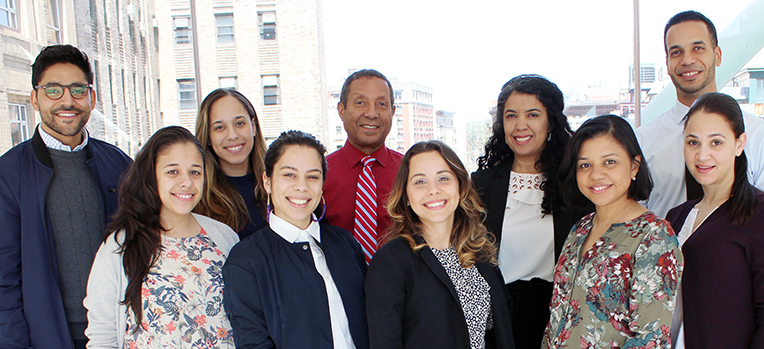 Pictured, front row (left to right): Juliet Colón, Michelle Peralta, Joanna Fitzgibbons, Massiel Benitez Mendez, and Carmen Germosen.

Back row (left to right): Joncarlos Berroa, Cynthia Abinader, Douglas Méndez, Danurys (Didi) Sanchez, and Luis Abreu.
Washington Heights-Hamilton Heights-Inwood Columbia Aging Project (WHICAP)
The Washington Heights-Hamilton Heights-Inwood Community Aging Project (WHICAP) is a community-based longitudinal study of aging and dementia among elderly, urban-dwelling residents. The project began enrolling patients in 1989 and has followed more than 5,900 residents over 65 years of age. The WHICAP study has enabled researchers to capture detailed information about the onset of dementia and how symptoms develop over time. It has yielded comprehensive data on the rates of, and risk factors for, Alzheimer's disease and other dementias among African-Americans, Caribbean Hispanics, and Caucasians living in these Northern Manhattan communities. WHICAP investigators have identified genetic, environmental, and health-related risk factors of disease and predictors of disease progression by collecting longitudinal data on cognitive performance, emotional health, independence in daily activities, blood pressure, anthropometric measures, cardiovascular status, metabolic disorders, neurodegeneration, and selected biomarkers in this elderly, multi-ethnic cohort. Blood and imaging biomarkers for late-onset dementia, mild cognitive impairment, and cognitive decline have been studied to identify early indicators of risk that might serve as points of intervention to delay or prevent onset of dementia. A central finding is that the rates of disease and frequency of disease risk factors vary across ethnic groups. WHICAP is run by a multidisciplinary team at Columbia University Irving Medical Center, led by Dr. Richard Mayeux, and is supported by a grant (R01AG0372) from the National Institute on Aging of the National Institutes of Health.